Sabina Itinerary – Fara Sabina, Toffia, Montopoli Sabina, Forano, Stimigliano, Magliano Sabina
Fara in Sabina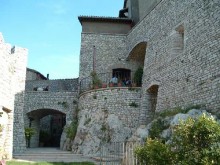 Castled on the hill Busio among olive groves, offers to the visitors a beautiful panorama over Rome, the Cimini Hiils and the Soratte The ancient medieval centre of the village is rich in churches and patac/ft from renaissance and baroque age
TO GO SIGHTSEEING the Museo Civico Acheologico in the Palazzo Brancaleoni, dated '500, Palazzo Orsini dated '400; the church of San Giacomo; the Convent of Clarisse; near Passo Corese the remains of the old sabina vollage Cures.
Toffia
Set on a rock hill, is dominate by the Elci Mountain, rich in woods In 1219 Pope Onorio III came and visit the small village and, for a little period, also San Francesco spent some time here. During the first half of 1400. San Bernardino da Siena founded here the Confraternita of Gonfalone
TO GO SIGHTSEEING: baronal palaces Palazzo Orsini (XV century), Palazzo Ruffetti-Bufalieri (XV). Palazzo Palma, Palazzo Palica-Castellani; the Castle (X century).
Montopoli Sabina
It is set on a green hill among olive groves and grapes and offers a large panorama over the Abbey of Farfa , the Farfa River, Tancia Mountain and Tevere Valley
TO GO SIGHTSEEING, the old centre; Porta Romana; Palazzo Orsini, the Franciscan Sanctuary of S Maria degli Angeli, the Casoni remains of a roman villa which belonged to Terenzio Varrone, the remains of Tribuco Castle destroyed in 1137, the Ugonesca Tower dtd 1000
Forano
Forum Jani, foro di Giano, was inhabited during the roman period, as we can see from several remains of rustic villas where important roman families used to live
TO GO SIGHTSEEING the church of Santissima Trinità, built up in 1682. in the main square, that keeps a beautiful painting did '400 Madonna col Bambino; Palazzo Ducale; the church of San Sebastiano (XV century) restored in 1710. At Gavignano the old centre with the arch and the clock tower dtd '200
Stimigliano
Septimiliana, maybe due to the presence of a roman villa, after the barbarian invasion becomes Castrum Stimiliani, castled on a hill, like most of the Sabina s villages Possession of Monastero di S.Andrea in Flumine first, of Abbey of Farfa then, since 1368 is property of the Orsini family until 1604 when it returns to the Camera Apostolica
TO GO SIGHTSEEING Palazzo Orsini; the oldest part of the village; SS Cosma e Damiano; San Giovanni Bosco; Collegiata of San Valentino.
Magliano Sabina
At the border between Lazio and Umbria, Magliano offers to the visitor a beautiful panorama over the Tevere Valley, the mountains of Sabina, the Soratte Mountain and the little village of viterbese, as far as over the hills of Umbria. The centre of the town keeps, in perfect armony, both its medieval and its sixteenth century appearance.
TO GO SIGHTSEEING: Museo Archeotogico; Palazzo Vescovile and Palazzo Civico; San Liberatore's Cathedral; the Sanctuaries of S. Maria del Giglio, with the necropolis, and S Maria di Uliano.
Questo post è disponibile anche in: French